About us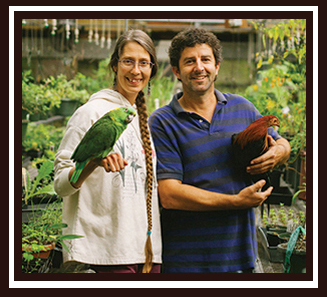 We are a Licensed Nursery
Just A Little History Of Maggie's Herbs.
Maggie's Herbs is Located twenty miles west of St.Augustine, Florida on a quiet beautiful County Road -13
near the St. Johns River and Lane Landing/Tocol Creek /Picolata.
The farm has been in the present location since 1983.The farm was purchased by Dora Baker, from the previous owner several years ago.We now cultivate more than 100 species of herbs, succulents and flowering perennials. Herbs are like ornamental plants, there are annuals such as basil, coriander, and marjoram perennials such as mint, fennel and thyme, woody perennials such as rosemary, lavender and sage, or even bulbs such as chives. Growing a useful range of herbs is very simple. Choose the varieties that suit your own particular taste and life style. Some of the most popular culinary herbs are: Bay Laurel, Basil, Parsley, Sage, Thyme, Rosemary, Sorrel and Mint.
Heirloom variety of the famous datil hot pepper now available at maggies herb farm !!
Click
HERE
to see the owner Dora Baker Herbalist / Artist Profile
We specialize in growing many of the unusual varieties of herb plants
A Few Herb Plants found at Maggie's Herbs
Anise, Basil, Caraway, Chives,Cameleon Plant, Cat Nip,Cilantro, Citronella, Cat Thyme, Fennel, Dill, Curry Plant, Dianthus, Echinacea, Epasote, Eucalyptus, Lemon Mint Feverfew, Scented Geranium, Horehound, Horsetail, Indigo, Lemon Grass, Lemon Tea Tree, Lion's Ear, Lovage, Mint, Lion's Ear, Lovage, Mint, Motherwort, Monarda, Myrtle, Oregano, Parsley, Patchouli, Pepper,- Perilla, Rosemary, Rue,- Sage, St. John's Wart,- Santolina, Savory, Sorrel,Stevia, Sweet Flag, Tarragon,Thyme, Tilo, Toothache Plant,Valerian, Violet, Vitex, White Sage, Yarrow
Heirloom variety of the famous datil hot pepper now available at Maggies Herb Farm !!
Visitors are assured of a warm welcome to our beautiful surroundings and we hope that they will enjoy their time spent browsing through our herb selection and learning about all aspects of herb growing. It is always nice when customers return and thank us for helping them to create a wonderful garden.
---
We try hard to make Maggie's Herbs informative and educational
Please click on the Herbal Classes Link at the top of this page to see classes and other activities.
If you are new growing and using herbs or have an interest in learning some of the many uses for herbs please register early before classes fill up.
---
Click links below See Farm youtube videos made by our great friends and customers
Our normal hours of Operation are currently:
10 am to 4 pm - 6 days a week, closed Mondays.We are closed on the following Holidays: New Year's Day, Memorial Day, Independence Day, Labor Day, Thanksgiving Day, Christmas Day.We might be closed due to an unexpected emergency, so to avoid disappointment, please telephone office phone to get recorded message for any update 904-829-0722 before leaving on your journey.Thank you.
Click HERE to see images of our Yoga area at Maggie's Herb Farm . no appointment necessary for Yoga classes Wed & Fridays 10:00 am Suggested Donation $10 , 904-829-0722

Maggie's web site will be under construction on a permanent basis. Please check in again for new
information and update - on herbal classes.