About us

The Gift shop is now open in the new check out area. Click HERE to see images of our new check out area.
The farm Nursery is open sale of live plants 10 am to 4 pm - 6 days a week, closed Mondays.
(Sorry all Yoga classes are closed due to the covid-19 until further notice)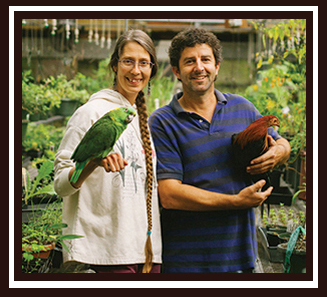 We are a Licensed Nursery
Just A Little History Of Maggie's Herbs.
Maggie's Herbs is Located twenty miles west of St.Augustine, Florida on a quiet beautiful County Road -13
near the St. Johns River and Lane Landing/Tocol Creek /Picolata.
The farm has been in the present location since 1983.The farm was purchased by Dora Baker, from the previous owner several years ago.We now cultivate more than 100 species of herbs, succulents and butterfly nectar flowering perennials. Herbs can be annuals such as most basils ( we do carry a couple perennial ones), calendula, borage, cilantro, and dill or perennials such as mint, thyme, rosemary, lavender and sage, . Growing a useful range of herbs is very simple. Choose the varieties that suit your own taste and life style. Some of the most popular culinary herbs are: Bay Laurel, Basil, Parsley, Sage, Thyme, Rosemary, mushroom herb and manihots
Butterfly host and nectar plants like pipe vines, milkweeds, giant milkweeds, porter plants, rue, pentas, passion vines, lantanas, popcorn cassias ( smells like buttery popcorn)
Fruit trees like blueberrys, dwarf mulberry, banannas, florida peach and apples, figs, loquat plums and citrus ( seasonal)
Click
HERE
to see the owner Dora Baker Herbalist / Artist Profile
We specialize in growing many of the unusual varieties of herb plants
A Few Herb Plants found at Maggie's Herbs
Anise hyssop, Basils ( sweet, holy, lemon, blue, opal ), bee balm , calendula, borage, Chives, Cat Nip, Culantro ,Cilantro, chervil , Fennel, Dill , Eucalyptus, Lemon Balm, lemon verbena , Horsetail, , Lemon Grass, Lion's Ear, Mints ( several kinds), Oreganos, Parsley, Patchouli, Rosemary, Rue, Sage, Sorrel, Stevia, Tarragon,Thyme, lemon thyme, lavender, pineapple sage, nasturtium
Edible landscape bushes like rungia mushroom herb, manihots ( several), katuk, false roselles, okanowa spinach, moringa, samba, hoan ngoc vietnam spinach
Several Gingers like common culinary, galangal, shampoo pine cone, turmeric and cardamom
Several medicinal herb plants like mugwort, skullcap, valerian, vitex chaste berry, comfrey, elderberry, feverfew, echinacea, wormwood, yarrow, vicks plant
seasonal availability on some plants call before coming to check current stock
Heirloom variety of the famous datil hot and sweet pepper available at Maggies Herb Farm !!
Visitors are assured of a warm welcome to our beautiful surroundings and we hope that they will enjoy their time spent browsing through our herb selection and learning about all aspects of herb growing. It is always nice when customers return and thank us for helping them to create a wonderful garden.
---
We try hard to make Maggie's Herbs informative and educational
Please click on the Herbal Classes Link at the top of this page to see classes and other activities.
If you are new to growing and using herbs we can help you have success!
---
Click links below See Farm youtube videos made by our great friends and customers
Our normal hours of Operation are currently:
10 am to 4 pm - 6 days a week, closed Mondays.We are closed on the following Holidays: New Year's Day, Thanksgiving Day, Christmas Day.We might be closed due to an unexpected emergency or at the end of the year for repairs, so to avoid disappointment, please telephone for any update 904-829-0722 before leaving on your journey Gift shop and all classes are closed due to the coronavirus (covid-19).Thank you.
Sorry Gift shop and all Yoga classes are closed due to the coronavirus (covid-19 until further notice)
Click HERE to see images of our Yoga area at Maggie's Herb Farm .

Maggie's web site will be under construction on a permanent basis. Please check in again for new
information and update - on herbal classes.